This article by carafem's Vice President, Melissa Grant, originally appeared in the Huffington Post.
---
I've spent the majority of my career facilitating health services for women. Twenty years ago when I started my career, I was young and optimistic and believed that women had collectively passed the tipping point and were on the road to equality, but my optimism was short-lived.
As of late, I've spent too many hours and too many days watching this hard earned equality erode at the hands of powerful, yet disconnected and overwhelmingly white, rich men. From Texas to Louisiana, the ol' South has seemingly risen again.
Thanks largely to the current presidential race a long-silent majority no longer feels the need to keep prejudiced and classist views to themselves. Hate is winning in the US and women and the disadvantaged are often bearing the painful brunt of this movement.
A favorite quote of mine has always been, "the arc of the moral universe is long, but it bends toward justice." I adopted this quote long ago in order to maintain hope and continue to fight for progressive change, even though the road is long and the path is steep.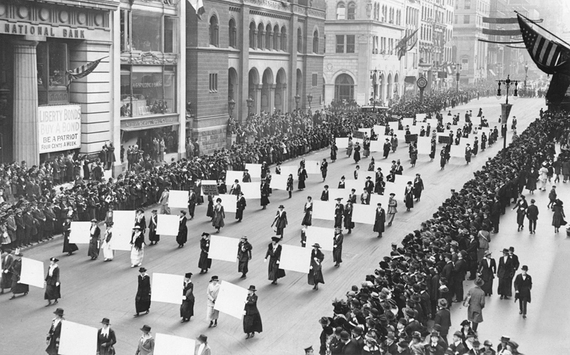 Lately, this hope has been more difficult to hold on to. Women, and those in this country who believe in the fair and equal rights of people, must wake up and respond to the increased aggression of those trying to turn back the clock on human rights. Those intent on stealing the rights of women, whether medically, socially, or in the workplace, are now increasing their pressure – the needs and wants of their own wives and daughters be damned.
*Disclaimer – I'm no fool, so I assume the women behind the men taking away women's rights won't really be affected because of their economic status, but from an idealistic view, I also carry the hope that women from all walks of life might look out for each other. Case in point: the fearless Wendy Davis in Texas, who has done more than her fair share of standing for other women.
Maybe we need to adjust our tactics to generate a better response? Maybe the men trying to make the medical decisions about our bodies need to be taken off-guard by a new approach? One organization I admire, in particular, has taken to humor to not only spread awareness about women's health, but to encourage women to support each other. WomanCare Global is a nonprofit organization committed to meeting the vast unmet demand for family planning by providing access to reproductive health solutions for women around the world.
WomanCare Global launched a campaign last year entitled, #thenwhowill, a humorous attempt to educate and empower women and girls on reproductive health and their bodies, particularly in making sure that women who need help are getting their information from a reliable source. Encouraging women to understand what reproductive health choices are available and how those choices impact their lives, and the lives of their families, is core to the organization's mission. What makes this campaign sing, however, is its humor. The organization's founder Saundra Pelletier enlisted the help of celebrities Jessica Biel, Joy Bryant and Whitney Cummings to create a platform where no topic is off limits.
Such as the joy of condoms:
Or the reality of having to take a birth control pill:
Humor has a way of making difficult issues easier to discuss by catching most of us off guard. The best example of using humor as a tactic to put the unsuspecting in a vulnerable state, minus the #thenwhowill campaign, is Samantha Bee's coverage of the HB2 mess in Texas. During a seven-minute video montage, the late night host somehow gets access to interview Dan Flynn (R-Texas), the man who drafted and co-sponsored the bill to disable abortion clinics in the state of Texas and who, not surprisingly, knows nothing about the abortion procedure. Watch this and though it is funny, it is impossible to walk away from this Bee report without feeling angry, misrepresented and maybe even stunned by the apparent ignorance of a male politician stating he is trying to do what best for women while obviously coming from a place of ignorance and demagoguery.
Another example of using the power of humor to educate and move people toward action is the work of Lady Parts Justice. The comedian Liz Winstead has taken to reaching out with frank messages about reproductive justice in a self described, 'Not suitable for work (NSFW)' framework. Her examples of state-by-state attempts by politicians to further erode women's access to reproductive health care are funny, pointed and getting people talking. By using humor, a digital framework and specific local examples of political hypocrisy, LPJ is able share a message that is culturally diverse; laugh out loud funny and frighteningly serious all at once.
The time to bend the trajectory of the moral arc toward justice is now and we need to band together as supporters of equality to assist each other in navigating across vast economic and political divides. In the past, we have done this through sadness, and often through anger. Maybe now, we can reach an entirely new audience by inducing the tears of laughter.